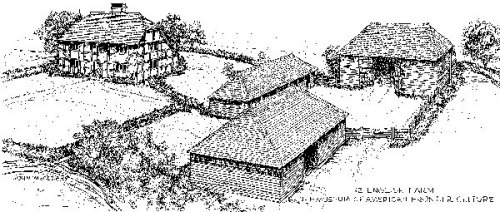 A group of historic European farms has been re-erected in Virginia, USA to form part of the Museum of American Frontier Culture. The Museum is designed to help illustrate the lives of the early American pioneers and to show how they and their ancestors lived before they came to Virginia and after they had settled in the Shenandoah Valley.
The English farmstead is based on a group of farm buildings that once stood on the Petworth Estate in Sussex. It comprises two 17th century timber frame barns and a 17th century house together with a later 18th century cattle shed.
Peter McCurdy carried out a meticulous survey and analysis of the original timbers to enable the buildings to be faithfully reconstructed later at the Museum. The timber frames were dismantled and then repaired, conserved and prefabricated in McCurdy's workshops before being shipped out to Virginia where McCurdy's team re-erected the structure on the Museum site.
Before the dismantling and reconstruction of the German farmstead Peter McCurdy visited Germany to survey and record the group of 17th century farm buildings which stood in the village of Hordt on the Rhine. The buildings were dismantled and shipped over to the USA to join the other farm buildings within the Museum's collection.