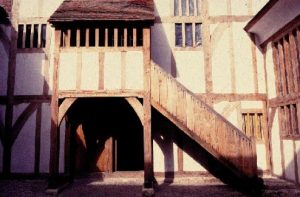 The re-erection of the timber frame, in just ten days, was particularly challenging as the site at Coffee Yard, was hemmed in and accessible only via narrow pedestrian alleyways or 'snickels'. The team from McCurdy's had to carefully 'shunt' the vast timbers through the winding streets on electrically powered transporter trolleys and then use an Italian designed, self-erecting tower crane to lift the timbers into place.
The York Archaeological Trust has restored Barley Hall as a living and working example of a medieval household. McCurdy's successful authentic reconstruction of the building led to the later commission to rebuild the Globe Theatre. Barley Hall is part of a remarkable 14th century monastic hospice reconstructed by the York Archaeological Trust at Stonegate, in the centre of York. McCurdy & Co. carried out the archaeological analysis, careful repair and reconstruction of six bays, which make up the north wing, and the final re-erection of the completed timber frame.
Peter McCurdy spent months surveying and recording all the timbers in McCurdy's Berkshire workshops before starting on a programme of repairs. More than three-quarters of the original timbers had to be replaced. Following historical research and traditional carpentry techniques these were individually cut and shaped using English Oak.