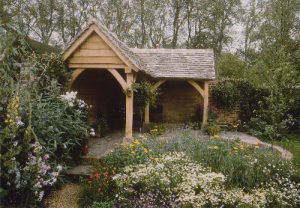 This charming traditional garden gazebo was specially designed by Peter McCurdy and built by McCurdy & Co. It formed the centre piece of Julie Toll's 'Flower & Butterfly' garden for the Chelsea Flower Show. The completed garden was awarded one of the Show's coveted gold medals.
The hand-crafted oak shelter surrounding the couryard can be used as a comfortable hideaway from which to view all the garden's major features and enjoy the butterflies and other wildlife it attracts.
The gazebo was pre-fabricated from English Oak in McCurdy's workshops in Berkshire and then erected in situ ready for the Chelsea Flower Show.