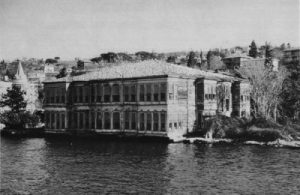 This accurate reconstruction of a traditional timber framed Ottoman house is based on the summer palaces, or Yalis, that were built on the banks of the Bosphorous in Istanbul. As most of these original houses have either been demolished or have become derelict this historic reconstruction is the first to be built here for 100 years.
Peter McCurdy was appointed to provide specialist consultancy advice on the design and detailing of the complex timber structure. This project also involved extensive research into traditional design and methods of Turkish carpentry techniques.
The timber frame was fabricated from green and seasoned English Oak in McCurdy's workshops in Stanford Dingley. It was then shipped out to Istanbul where it has been erected on site on the European bank of the Bosphorous.