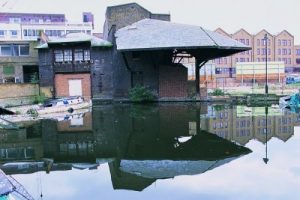 A major regeneration scheme is taking place around the Paddington Canal Basin terminus in central London. The area being redeveloped is over 100 years old and dates back to when the Basin was lined with industrial warehouses and wharfs.
In 1992 Peter McCurdy began a survey and archaeological analysis of a Grade II listed, timber framed, industrial building which stood on the canal edge at the centre of the redevelopment site. The building featured a large king post roof, in softwood, that was cantilevered in two directions forming a large swept canopy overhanging the canal.
McCurdy & Co. were appointed, in 1999, by the Chelsfield and Paddington Basin Development Company to dismantle, repair and conserve the canopy. It will eventually be re-erected to form part of a new building that is to provide facilities for users of the waterway.