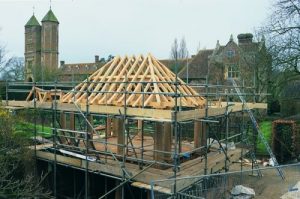 The derelict Castle and grounds at Sissinghurst were bought in 1930 by the poet and novelist Vita Sackville West and her husband, the diplomat and diarist, Harold Nicholson. Together they spent the next decade creating a sequence of inspirational and influential gardens that are still renowned around the world. Since 1967 Sissinghurst has been a property of the National Trust.
The family and the National Trust commissioned the design and construction of a new timber pavilion and boathouse, on the bank of the moat that encloses the orchard. The project is a tribute to Nigel Nicholson, the son of Vita and Harold, and has been built in his lifetime.
The traditional design of the boathouse features twelve Tuscan columns, turned from English oak, with oak screens and balustrading, capped with a pitched tiled roof. The timbers were detailed and fabricated in McCurdy's workshops in Berkshire and then the finished structure assembled on the site by McCurdy's team of craftsmen.