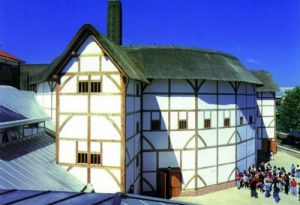 Since its opening in 1997 the new Globe Theatre has become a successful performance space and London's leading tourist attraction.
For nearly a decade McCurdy & Co. were closely involved in the authentic reconstruction of Shakespeare's original 'wooden O' carrying out much of the early research and analysis together with the detailed design and fabrication of the entire oak frame.
Peter McCurdy and his team of craftsmen were selected for the project after Sam Wanamaker had seen McCurdy & Co. at work on the reconstruction of Barley Hall, a 14th century timber framed building in the centre of York.
As there were no building records in existence the Globe team had to rely on historic reference material, Peter McCurdy's own knowledge of carpentry methodology of the period and analysis of the relevant contempary buildings to help determine the overall design. Then in keeping with tradition the phased fabrication of the oak frame was carried out off site at McCurdy's own Berkshire workshops. The shaped timbers were then transported to site for erection.
The greatest challenge was resolving the design for the complex stage and tyring house. Peter McCurdy spent six months surveying timber structures to find historic precedents and also sourcing suitable oak trees from which to shape the 28 foot columns and cross beam supporting the 16 tonne 'pentice' roof.
The Globe Education Trust is now actively promoting the theatre worldwide as a centre for research, education and dramatic training.
Visit the Globe Theatre web site.
An Account of the Reconstruction of the Globe Theatre.
by Peter McCurdy
Introduction
Preliminary Research
Fabrication and Erection of the Frame