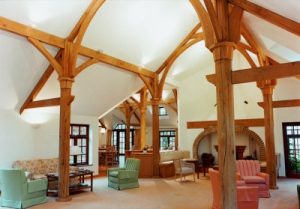 This timber frame building was commissioned by the Krishnamurti Education Trust as a purpose built educational centre. The building, which is L-shaped, has two connecting wings accommodating communal living and dining areas.
The building impressed HRH The Prince of Wales. In his celebrated personal view of architecture 'A Vision of Britain' Prince Charles comments:
"For me the design of this building shows a special kind of flair and vivacity . . . None of it is pastiche, but it uses well-tried forms in a comtemporary idiom."
The structure of the new building is based on traditional English timber frame design and carpentry methododology. The frame was meticulously detailed and constructed in selected green oak by the team at McCurdy & Co.